The situation on the ground - as reported by the local contact at the time of our first trip to Ukraine:
UKRAINIAN-RUSSIAN WAR WITHOUT ELOQUENCE
I do not know where to begin with……Talking about the Ukrainian conflict, that it is rather a full-scale Ukrainian-Russia war is very difficult and painless. Russia is an invader, attempting to seize the opportunity of a vulnerable Ukraine intruded into the Crimea, than lit the match of disorders and violance in the East of Ukraine. Ukraine had no choice but to protect its independence and borders, the choice to follow European course and fight against total and mean corruption. So many task to be completed in a short period of time. However, nothing is impossible.
When the ousted president Yanukovish fled to Russia, victorious and open-minded Maidan understood, it was just the low start before real challenge, and here it went. Annexed Crimea Peninsular, fuelled clashes of Russia financed militants with Ukrainians in the East, who later on received from terror-founder Russia the Humanitarian aid of multiple rocket launchers, armoured personal carriers, other weapon of a new generation. Step-by –step Russia created a private rebel army without any national insignia, and of course, dismissed any links or relation whatsoever. And here it went. While the Western country, Russian military machine started moving westward brutally violating all international laws and regulations, occupying new territories and chasing for otherwise thinkers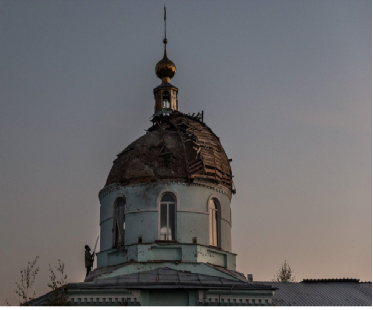 Nevertheless the Ukraine rested united as never before. Despite the fact of language differences, educational background, all nation got together in order to resist the Resident Evil, personified by Russia and its auxiliaries –Russia trained and armed military gangs of Novorossia
The Ukrainian Army, that has been systematically ruined by infiltrated KGB agents, together with Russia oriented traitors, was miraculously rebooted by……..people's assistance and that of volunteers, who collected, procured and shipped necessary equipment, uniform, night vision sights, supply, even sniper rifles and home upgraded armour busses and van. Truth be told, due to volunteer initiative and national undefeated desire not to be occupied again by trigger happy and blood-thirsty Soviet regime the Ukrainian has managed to stop a red plaque of the XXI c.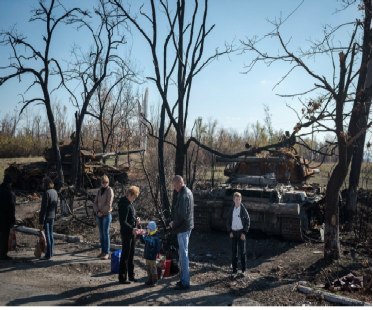 Signed in Minsk the Ceasefire Agreement provided the glimpse of hope that civilians will not hear cannonades in their villages and towns, and only peaceful solution would be applied reciprocally.
Unfortunately, this was a trap, set up by dictator Putin and his puppets Donetsk and Lugansk People's Republics. With the help of fake humanitarian convoy the pro-Russian rebels accumulated weapon and ammunition and launched new offensives in the area of the Denetsk Airport and Debaltsevo. A lot of people, including civilians died there.The Ukrainian Army kept to the Minsk Ceasefire Agreement and did not violate it, used the weapon in exclusively for self- defence.
The second and third rounds of Minsk talks just proved that Russia representatives and their puppets could not be trusted…..Unfortunately, this could not turn the time back, as the majority of villages and towns have been ruined beyond repair. The infrastructure has been totally destroyed, the inner refugees (more than 1.2 million people) flooded to big cities like Kyiv, Dnipropetrovsk, Zaporizhia looking for the shelter and psychological assistance. The majority of them lost everything they had – property, possession, business, beloved ones. The Ukrainian Army death toll rises to 1200 soldiers, civilians about 5400 persons.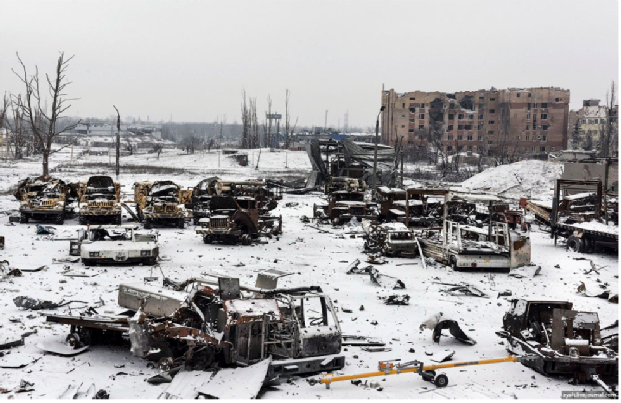 The occupied territory was transformed into the hell on the earth – human trafficking to Russia, force labour for prisoners and otherwise thinkers, looting, robbery, kidnapping, extortions and tortures
Just go to bbc or cnn web sites and you will see these atrocities.
http://www.bbc.com/news/world-europe-31707444
http://www.unian.info/war/
Among other dirty tricks, Russia is using mass media as a strong propaganda tools, inventing the events that discredit the Ukrainian Army and Territorial Defence Battalions.
This is more than a conflict, this is the war against freedom, and the attempt to undermine a current world order and reestablish post WW2 fake supremacy of decaying Russia.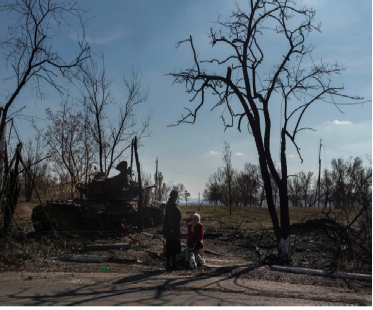 All we need right now is to get united in order to protect what is ours. Those who can be drafted, please, do so, those, who can donate, please do so, those who preach the truth, please do so.
It is a constitutional right and divine gift to protect your country, family, neighbourhood from an occupant.
Let the Almighty God and the truth be with us until we win!!!!