April 2013 - A minibus to Transnistria
Spring 2012, John's team were due make a second attempt to deliver a minibus to Transnistria. They had made a previous attempt in July but a gearbox failure brought them back home before even reaching Hull. Repairs were completed, the trip was replanned; unfortunately the winter snow was still blocking the mountainous route and the trip had to be postponed again. Some of the planned driver team now couldn't be available for the trip so there was a quick hunt for new volunteers.
Spring 2013 - the mission finally set off.
Why a minibus?
Father Ruslan works with Caritas in Transnistria and runs a mission where he feeds and gives free schooling to children in the village who are orphans or whose families are too poor to afford proper meals and school fees. The minibus will mean that he can now drive and collect children from the surrounding area and greatly enlarge the number of kids he provides care for.
The plan now is to raise some funding through St Roberts to bring Father Ruslan across to Harrogate during the summer.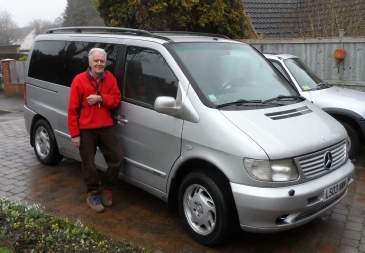 Mission report from John:
On Monday 22nd April, 2013 we left England to deliver a minibus to a monk (Father Ruslan) in Transnistria. It was quit a hectic one. I had a blow out of the front wheel at 70 mph on the German autobahn, after that I hit a very large pothole at speed and bang went the suspension. I could just get my finger between the wheel and the wheel arch. Jez Ahmed, my co driver was a God send. I was for calling the AA to get towed in, but Jez suggested we tried to drive it on. Well in the end we drove 1600 to Moldova and got it fixed there. On arriving at the customs border control between Moldova and Tran's the Russians insisted I needed the signature of a notary on one of the documents, so the vehicle had to go into a compound until I sort out the documentation. So the trip was not 100% successful. No doubt in a week or so my friend, Father Ruslan, will be able to collect the minibus.
Photos to follow!
So now I am back in the saddle arranging the stack of paperwork for my next trip to the Republic of Nagorni Karabach. The Rep. is situated between Armenia, Azerbyjan